If you are a newbie to SEO, then you might want to check out these 6 SEO automation tools. They'll save you time and effort, allowing you to focus on other important tasks.
SEO (Search Engine Optimization) is the practice of optimizing websites to rank higher in Google searches. The goal is to get more traffic from organic search results. This means having high-quality backlinks pointing to your site.
There are several ways to automate SEO tasks such as keyword research, backlink building, etc. These tools allow you to perform repetitive tasks without having to spend hours manually researching keywords and writing blog posts.
Read on to discover what these tools are and how they can hack the growth of your business.
1.SEMRush
This is the #1 tool to use whether you are an SEO Newbie or an expert. There is so much you can do on SEMRush. My favourite is the "Keyword Magic Tool" where you can get an immeasurable list of keywords sorted in terms of their KD(Keyword Difficulty) and Search volume.
Here is an example, I tried to search for the keyword "TikTok ads":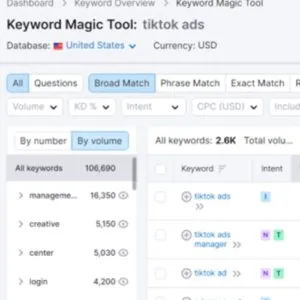 With the list of keywords that SEMRush offers, you can filter out by volume, search intent, keyword difficulty, and more. If you click on each keyword, you will be redirected to the top-ranking sites on the SERPS for you to be able to see how your competitors benchmark against you for that particular keyword.
Pro Tip: you might also want to look at the related keywords to find out which to optimize in your blog post. This way you are covering more semantics, long tail keywords and topic clusters altogether.
Another of my favourite feature of this tool is the "SEO Content Template". As a blogger, I use this a lot to formulate my content from scratch. You just pop in your keyword and it will give you all the necessary information such as semantically related keywords, headings, meta descriptions, user intent, and more!
There is a free account level on SEMRush if you'd like to do a trial, and that works well if you got one website or project to audit.
2.PageSpeed Insights
The three main core web vitals are:
Largest Contentful Paint (LCP)
First Input Delay (FID)
Cumulative Layout Shift (CLS)
Each has its own importance regarding how they affect your page speed and your UX(User experience). For example, you need a good LCP score if you want a good visual load. In that case, you should also look at compressing your images for visual stability. More importantly, First Input Delay tests how fast your page loads when a user first interacts. So, in essence, they are all relevant.
Nevertheless, PageSpeed Insights can be highly useful if you are a web designer and need to increase your website's UX(User experience) and generate more leads.
3.Google Search Console
How is it beneficial?
You can gain a lot of insights with Google Search Console(GSC) as it helps to cluster content, identifying the gaps, opportunities, and what on your page is high ranking. You can even export it as a report and see how you measure against your competitors.
If you use certain AI writing tools such as Frase for instance, they also have SEO tools such as the GSC linked to it which can assist you by finding out how well your webpages rank.
Do keep in mind that Google Search Console is not the sole key to use for a ranking factor, however, it can optimize and audit your website's performance.
4.Screaming Frog SEO Spider
There are a lot of beneficial reasons why you can use the Screaming Frog SEO tool. For example, it is useful in helping crawl small and larger websites. From auditing, extracting data with Xpath, generating XML sitemaps, finding broken links, and analysing page titles and meta tags, you can unlock a lot of features using this tool to meet your SEO strategies.
Although it is a bit more advanced, you can give it to your web developers to use as they delve into the site structure analysis and gather insightful information. This is where you can get more technical than SEMRush as it is primarily focused on on-site auditing.
Nonetheless, if you wish to try the free version; there are still plenty of features available. Check it out and try it for yourself!
5.Ahrefs
This one is my personal favourite. With an overall SEO solution just like SEMRush, Ahrefs can be good for competition analysis. The "Content Gap" feature is what I like to use. You can check out what your competitors rank for in terms of keywords and identify relevant keywords that your website does not have.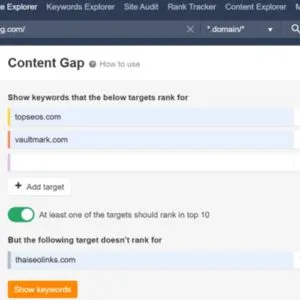 Check out this YouTube tutorial to learn more about how you can do competitor analysis with Ahrefs.
This is a great way to come up with content ideas or get a kickstart on your keyword research. With the Content Explorer, you can also analyse the content you specifically need as it measures organic traffic, domain rating, and social shares.
This is simply a great SEO tool to drive more organic traffic by deriving high-volume keywords whilst outranking your competitors.
6.Google Analytics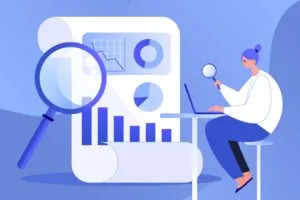 Last but not least, Google Analytics is an effective Google product as well along with the Search Console. This tool can provide insights into organic, social, referral, and paid search traffic and help you optimize your website's performance with key behavioural data.
These include KPI metrics which track SEO performance such as:
Bounce rates
Avg.Session
Page views
Exit Rates
Top Pages
and more!
Which SEO tool do you need?
Depending upon your marketing requirements, these are all solutions for SEO audits, rank tracking or merely using it as a keyword research tool.
There are plenty of different types of SEO software, and each has its pros and cons. Some are very easy to use, while others require a bit more knowledge. Whichever you wish to proceed with will be advantageous to your SEO solutions.
Nevertheless, these SEO tools mentioned include paid and free extensions, plugins, and cloud-based platforms with several packages you can choose from, so it is pretty flexible to use.
If you have any further questions on how to improve your SEO, optimize your links or need more tips on link building, please don't hesitate to contact us.