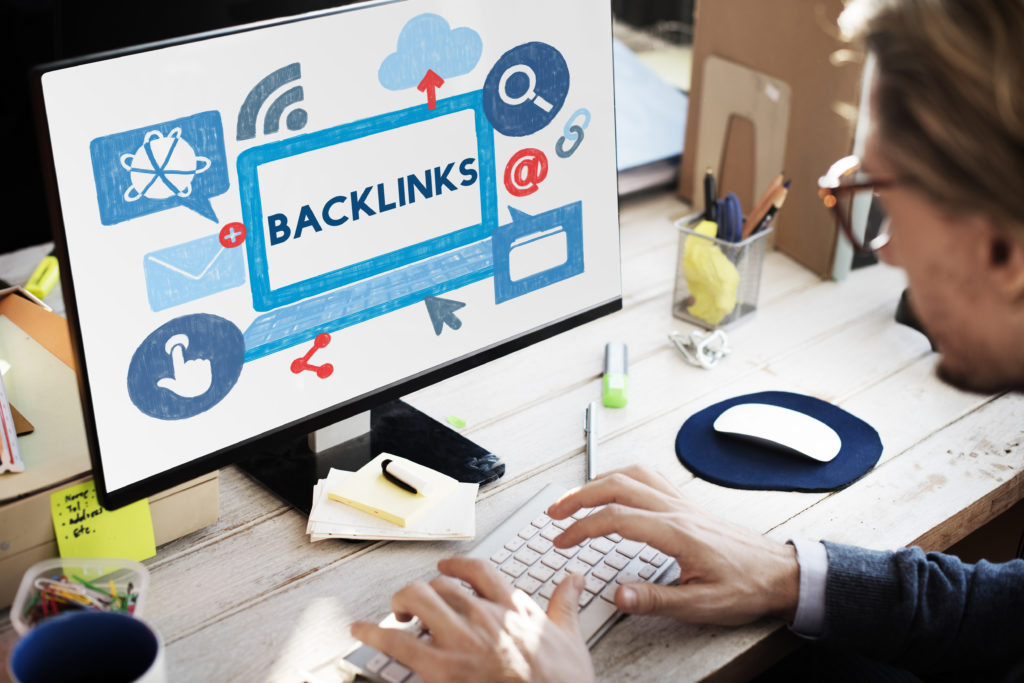 A backlink is a link pointing from one page or website to another. Alternatively, these can be called "incoming links" or "inbound link". In 2022, the first ranking page on any search query has 380% more links than other positions on page 1. By implementing these 8 effective ways to get free backlinks, you will be on your way to improve brand visibility and appear on Google's top position.

Types of backlinks


Before we get on to discussing all the ways to earn free backlinks, it's important to understand that there are two types of backlinks- do follow and no follow.
It is key to grab "do follow" types of links which are more relevant as they pass "link authority" or "link juice" along. These links tend to have high domain rating (DR) and domain authority (DA) as they increase your website traffic and rankings.
Nofollow links, on the other hand, will signal that the link is not to be followed. Although this may not seem as beneficial ,you still want to implement them.
There are many ways to earn free backlinks, however I've comprised a list of 8 main ones:
8 ways to get started with free backlinks:
1. Competitive Backlink
Ahrefs is a popular backlink SEO tool that provides access to competitors' backlink databases. With this, it's possible to find link opportunities from other websites related to your industry.
Method
To do this, start by searching top-ranking websites that have the same keywords you want to rank for. Then, you could analyse its backlink profile and notice the links that have pointed along to it.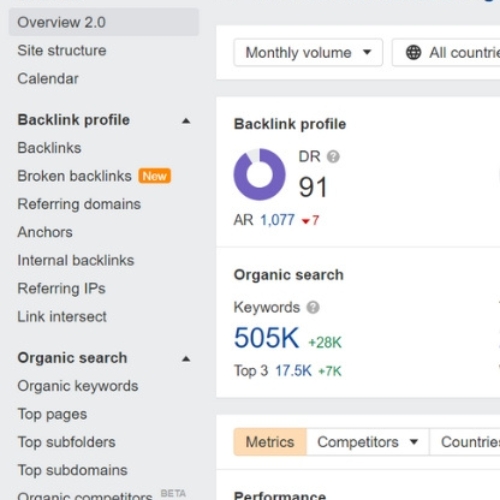 Afterwards, you might need effective email outreach strategies and convince why your content truly deserves to be linked on their website.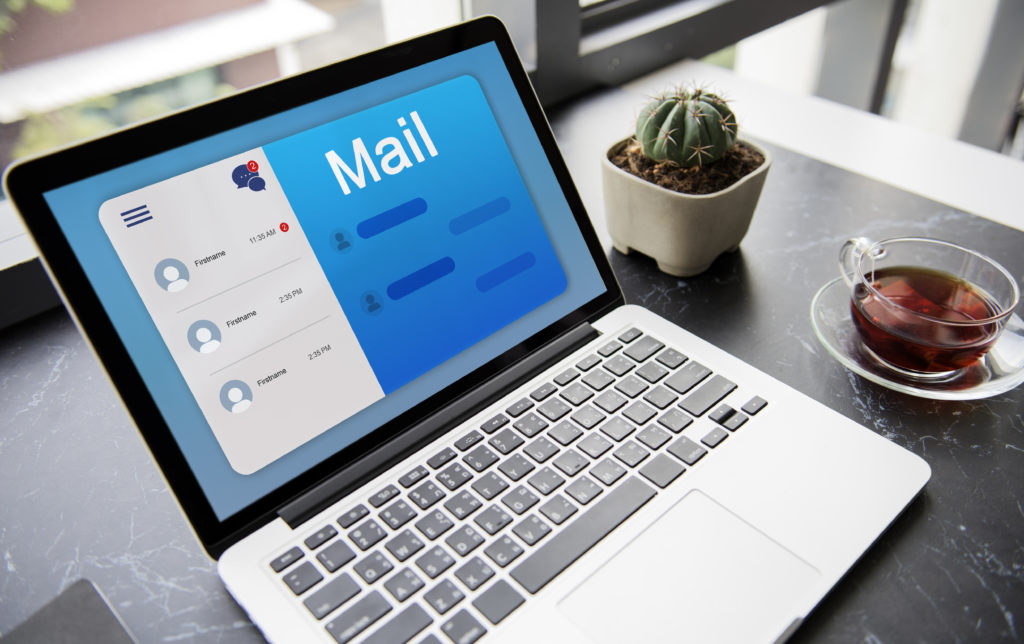 2. Broken Link Building
Broken link building is another great way for free backlinks. All you need to do is use a tool like Ahrefs, Check My Links, SEO Minion, or Screaming Frog to crawl any websites in your niche that have 404 or 403 external links.
Afterwards, reach out to the webmasters and notify them their link is not working and offer yours instead.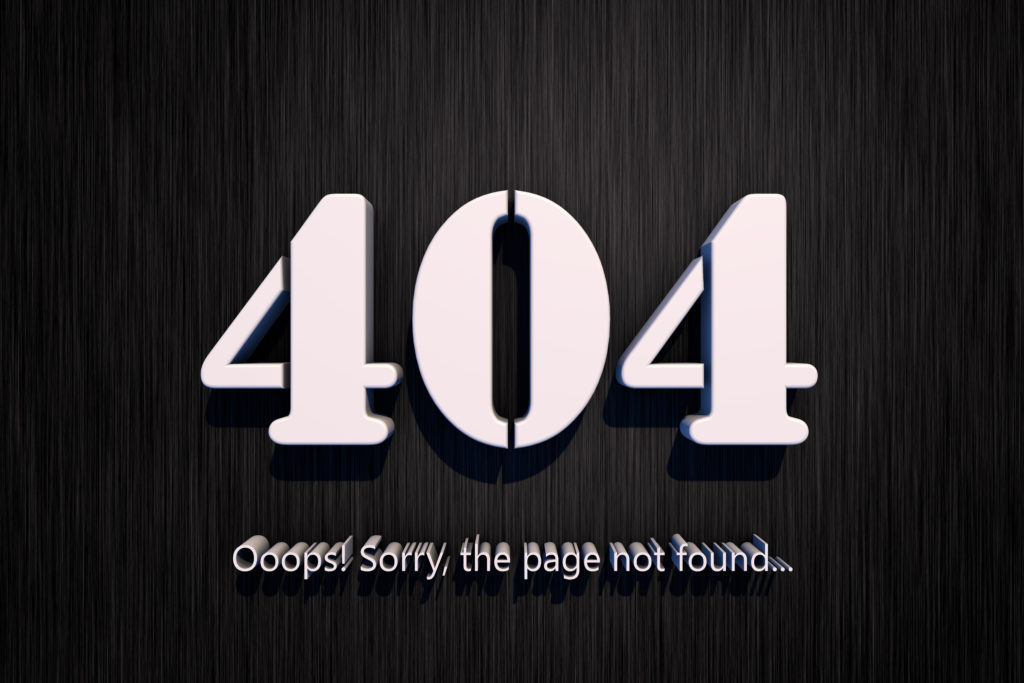 3. Link reclamation
Go through the SERPs and find any brands that mention your products/services without a link. Then, reach out to them and request a link back to your website.
This is also an easy way to get free backlinks since most of the brands will be more than happy to link back, especially if they already mentioned you in their content with no fee!
Pro tip: If you're in Thailand you would need a proper Thai business citation to boost your credibility and build upon relationship-based link-building strategies. By doing so, you can have people come to you for link exchanges instead of the other way round.
4. Guest Posting
Guest blogging is not a thing of the past, and it can be used as an effective method to acquire free backlinks. Before writing guest posts, though, it is important to make sure that the blog you are submitting content to is related to your industry. For example, if you work in the digital marketing field, then you might consider writing a blog about backlinks. Brainstorm ideas and come up with the most relevant topics, and then make sure to include a link back to your website in your submission. This way, you can get free quality backlinks while also providing interesting, helpful content that is relevant to your readers.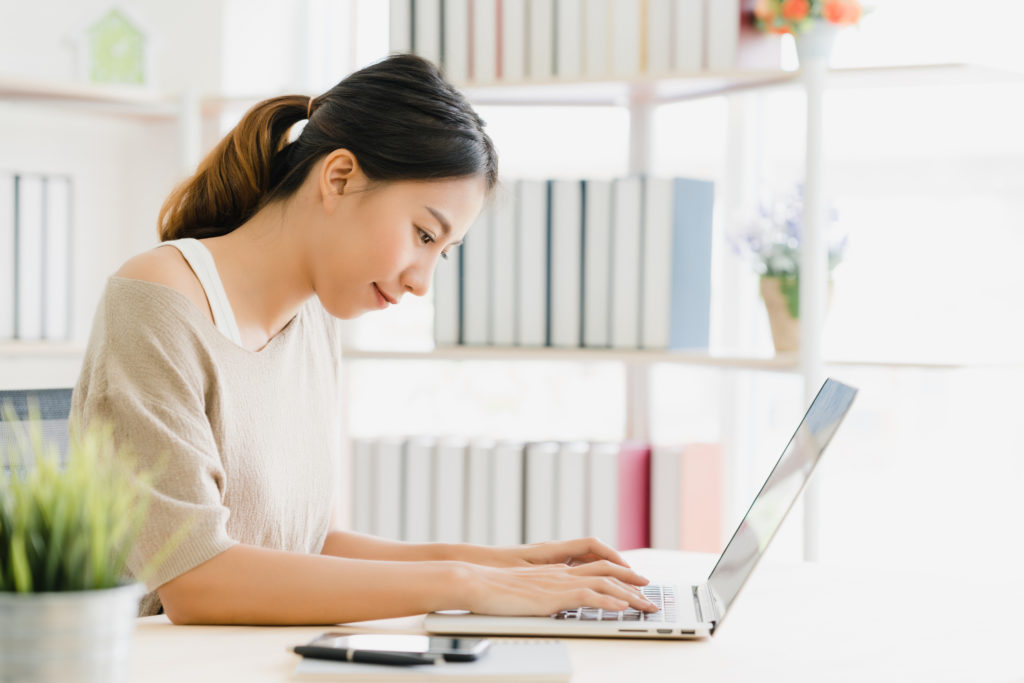 Thaiseolinks ensure that guest posting is done optimally and can help you increase your search engine rankings this way.
Nevertheless, although the majority of guest posting is done at an expense, the best way is to focus on your content quality and optimise it for SEO. These are just one of the ways to acquire quality back-links fast.
Types of Content that Rank Best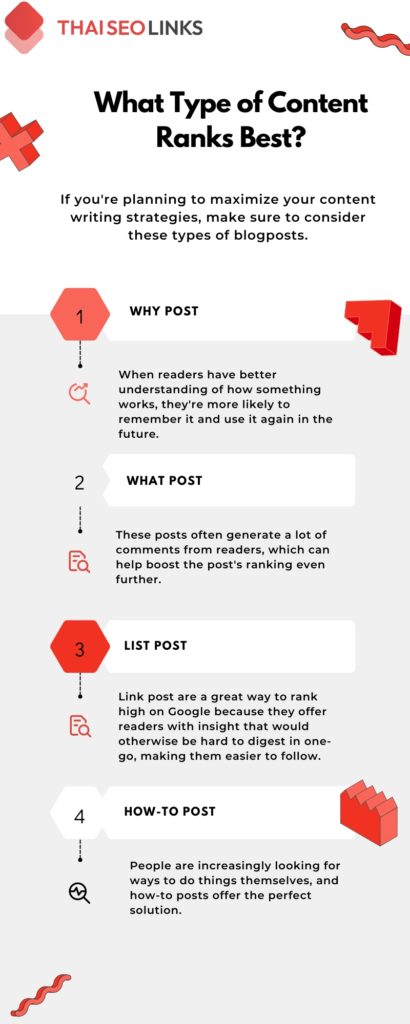 Image Content:
(1. WHY POST: When readers have a better understanding of how something works, they're more likely to remember it and use it again in the future.
2. WHAT POST: These posts often generate a lot of comments from readers, which can help boost the post's ranking even further.
3. LIST POST: Link post are a great way to rank high on Google because they offer readers a clear and organized way to learn information. They provide readers with insight that would otherwise be hard to digest in one-go, making them easier to follow.
4.HOW-TO POST: People are increasingly looking for ways to do things themselves, and how-to posts offer the perfect solution.)
Pro tip: Don't forget to throw some infographics such as the one above. Infographics are known to be shareable as editorial links and it's good for your SEO too!
While curating a piece of content that matches user intent with thorough keyword research and on-page SEO are key components of link building, it is also important to develop a good link structure. Internal links help Google to understand the structure of your website and can help to gain free backlinks by providing more authority.
By partnering with ThaiSEOLinks, you don't have to worry about any of it as we will provide high-quality Thai outreach links and manually curated Thai content.
5. The Power of Networking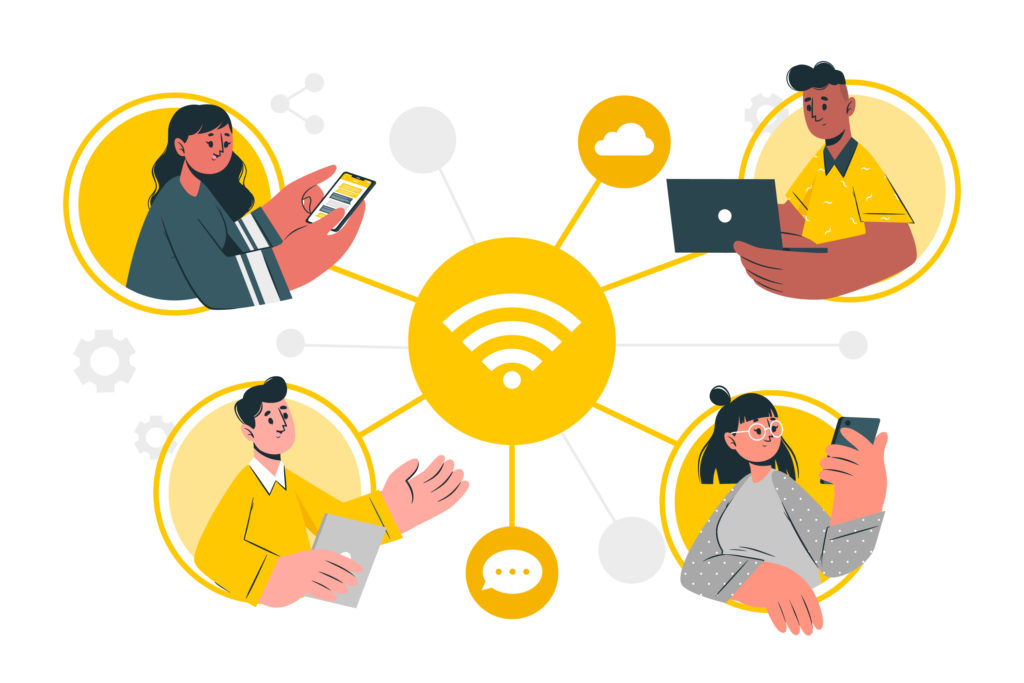 Have you ever thought to invite people for a podcast or interview? Or be the one to get interviewed? Reaching out to influencers in your niche can be a great way to get free valuable links and promote your brand.
There are several ways to approach this. For instance, you could look through the list of bloggers that have written content related to yours, join Facebook and LinkedIn Groups, or use paid services like BuzzSumo and discover influencers in your niche.
Once you have identified the right people, contact them to discuss opportunities for collaboration. This will not only help you gain a link on authoritative sites but also improve your search visibility and give it more exposure to a larger consumer base!
6. Contextual Links
Those external sites that you see under the "read more" section at the end of the blog are contextual links. This is another easy yet effective way to get backlinks by getting featured. Just write a killer pitch on why that should be you and you'll be able to offer a link exchange at no cost!
7. Diversify your Backlink Strategy
Aside from all the ways to gain dofollow links from websites, it is also important to target those "pillow links" or "Nofollow" ones as well.
One of the most effective methods is to make use of UGC (user-generated content) with nofollow links. This means that the links will not be followed by the search engines, but it also gives Google a hint that these links may still be useful for ranking purposes. Therefore, it is possible that Google will choose to pass on the ranking signals of nofollow links such as those found in forums.
Social Media
Social media is a really powerful tool when it comes to getting quality backlinks for free. Platforms like Twitter, LinkedIn, Facebook, and Instagram are all great places to start with.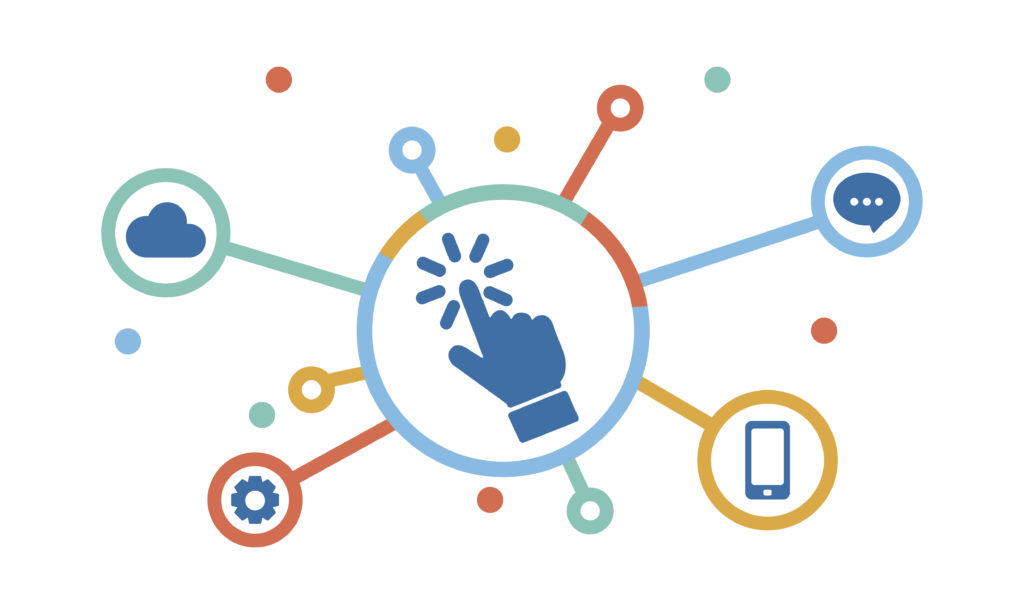 You could join relevant groups on LinkedIn or follow hashtags on Twitter to ensure you are targeting the right audience. Then you can share your content and links in these groups.
Blog comments, forum postings, and social media are all great ways to get those rel=nofollow links that are still proven valuable for your website. These will not only help you with SEO but also bring more visitors to your site directly which is really good for overall brand visibility!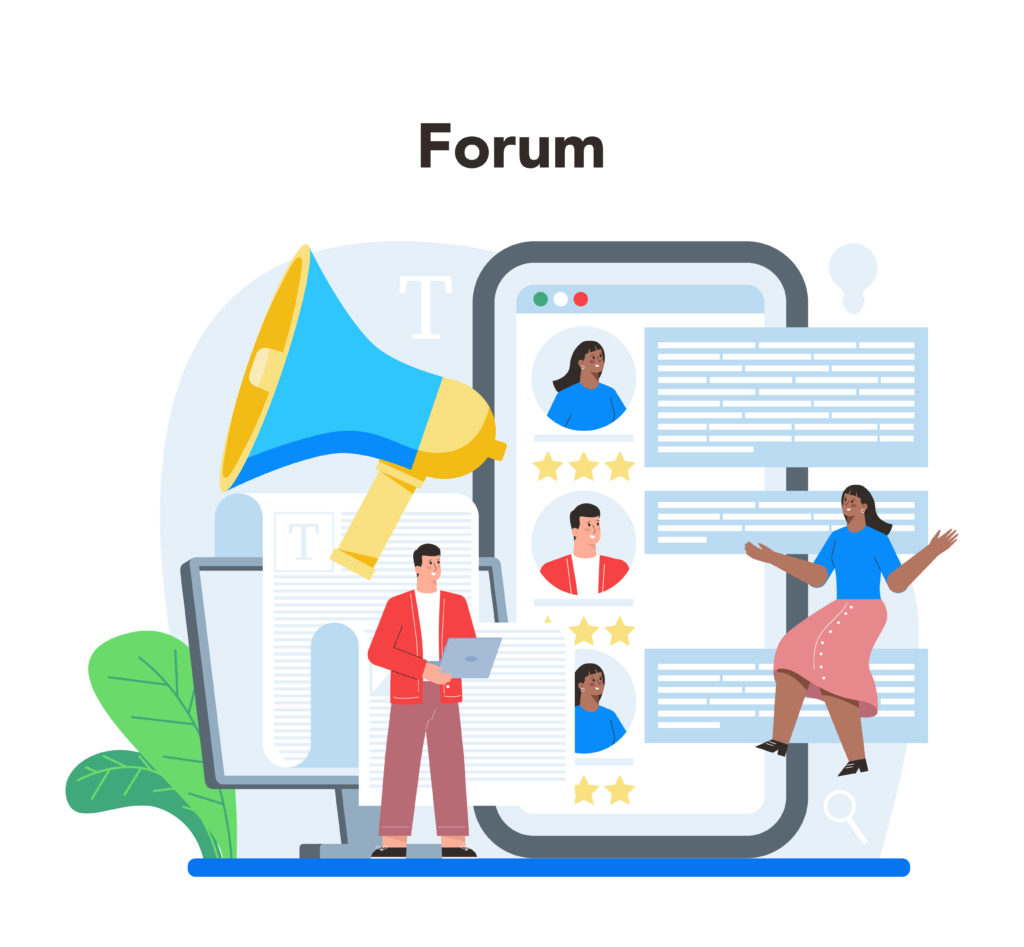 Just remember not to come off as too spammy and instead provide value in what you comment otherwise it may establish a bad reputation.
8. Don't forget Youtube!
By learning Youtube SEO, you can gain free backlinks and rank high on the SERPs!
Just publish a video and leave some inbound links to your site in the description so people can link back to you.
Backlink Checker
Do a regular backlink audit to identify any toxic links that can potentially harm your search rankings.
To sum it all up…
In conclusion, these 8 natural link building strategies are a much cheaper way than buying backlinks. Nonetheless, if you do need extra help to build Thai backlinks then consider hiring a professional to assist you. We are happy to lend you our services and take your SEO on the next level with our affordable packages.
What would be your type of link building strategy? Let us know! We'd love to hear from you.